Knuckles Range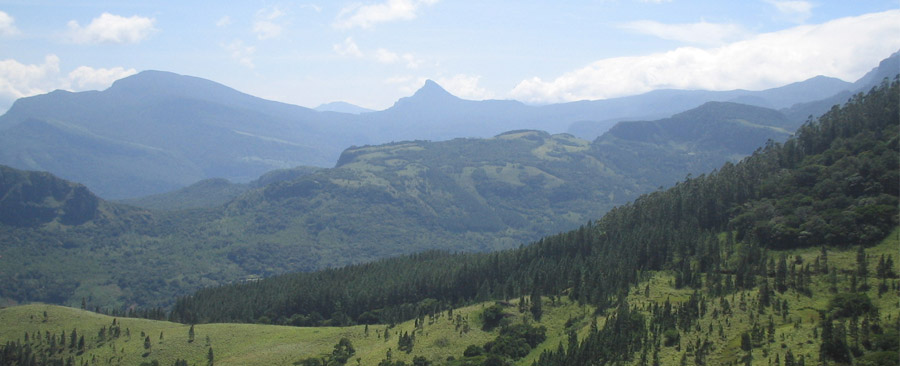 The Knuckles Mountain Range also called Dumbara mountain range covers parts of Kandy and Matale districts and is separated from the Central Hills by the Mahaveli Valley to the South and East and the Matale Valley to the West. Its name derived from its shape of a clenched fist, which forms a scenic wonderland. What makes the Knuckles Forest/Mountain Range unique is the geographical character of its location. Perpendicular to the mountain range that runs from Laggala to Urugala runs three distinct but lesser ranges while there are other minor ranges running parallel to it. There are a total of 34 clearly identified such ranges with in the 62 square miles that makes up 3000-6500feet in height.

Knuckles range is home to mammals such as wild boar, spotted deer, giant squirrel, barking deer, purple faced leaf monkey, mongoose and porcupine are found here.

Among the endemic lizard species found at Knuckles range are Crestless Lizard (Calotes Leocephalus), Pigmy Lizard (Cophotis ceylonica) and Kangaroo Lizard (Otocryptus Wiegmanni) and are leaf nose lizard (Ceretophora Tennennti) is only found in this forest. Knuckles range is home to no less than 200 bird species. Fifteen of these species are endemic to Sri Lanka: Spot Wing thrush, Sri Lankan blue magpie Jungle fowl, Yellow-fronted barbet, small barbet, Sri Lankan warbler, White faced starling, Sri Lanka white-eye, Black headed bulbul, Yellow eared bulbul, dusk blue flycatcher, brown capped babbler and Layard's parakeet.
Trekking at Knuckles Range
The Knuckles range is one of the loveliest nature attractions of Sri Lanka. The changing terrain of grasslands, rugged mountain peaks interspersed with streams and cascading waterfalls make Knuckles mountain range that covers an area of 18512 hectares the trekker's paradise.
Knuckles mountain range, a World heritage Conservation Area that affords intriguing trekking possibilities, is still to a greater extent untouched zone of significant natural beauty and biodiversity. The serious trekkers and biodiversity enthusiasts would even take up a three day hike of 40 plus km trek with a guide.
Popular hiking trails are Mini world's end from Deanston; Trail to Dothalugala from Deanston; Trail to Nitro Caves from Corbtt's Gap; Trail to Augallena cave via Thangappuwa from Corbett's Gap; Trail to Kalupahana from "Meemure" village.
Mini World's End at Knuckles Range
Mini World's end (1192m) is an escarpment situated at the southern end of the Knuckles range is a fine observation point in the Knuckles range. From this location, the panoramic view of the knuckles range and some of the villages situated in the foot hills of knuckles can be seen. The trek of 1.1 km that begins at Knuckles Conservation Centre (KCC) – Deanston is done within one hour.
Mountain Peaks at Knuckles Range
Knuckles mountain range features 34 peaks ranging in height between 1900 meters and 900 meters. Five high mountain peaks of the range having formed in the shape of a clenched fist, the British in Ceylon named the mountain range Knuckles.