Horton Plains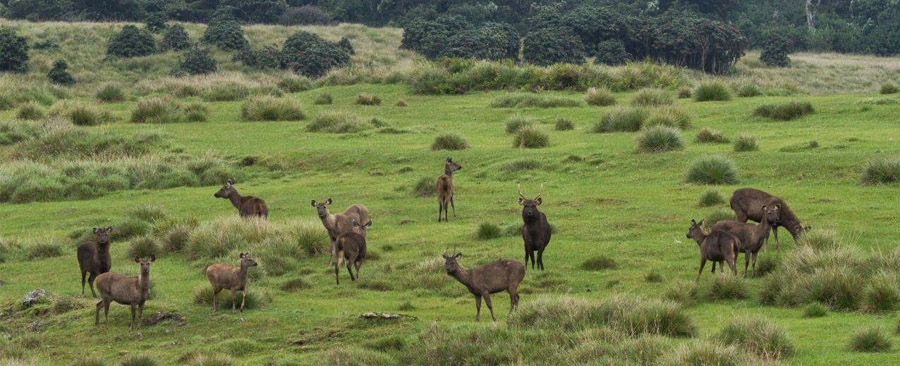 Horton Plains, the coldest and windiest location in Sri Lanka consists of ecosystems such as Montane evergreen forests, grasslands, marshy lands and aquatic ecosystem. At an altitude of 2,100 meters above sea level, Horton Plains spreads across over 3,169 hectares of the highest tableland of the island. In view of the large number of endemic flora and fauna species, Horton Plains was declared a UNESCO World Heritage Site on 30th July 2010. The escarpment with a depth of 900 meters called World's End and Baker's Falls are the highlights of the Horton Plains.
World's End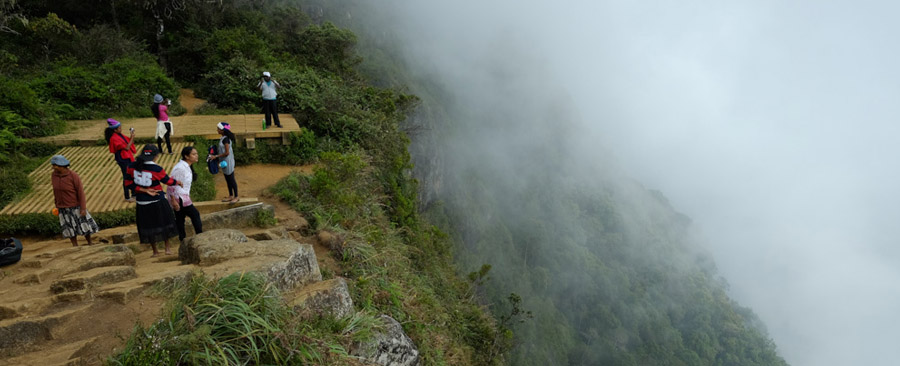 On the southern edge of the Horton Plains at an altitude of 2140m is famous World's End, an escarpment that fall sheer 900 meters. The man-made modern irrigation reservoir contained within the national park of Udawalawe brings in a lovely view of the low lying plains of the southern Sri Lanka. On a clear morning the World's End affords the view running to the southern coast of Sri Lanka. The panoramic and distant views are bound to get obscured by the mist from around 10am onwards. As such an early morning arrival at the escarpment would stand in good stead. Especially in the rainy months of May to July, the mist is particularly thick.
Birdlife in Horton Plains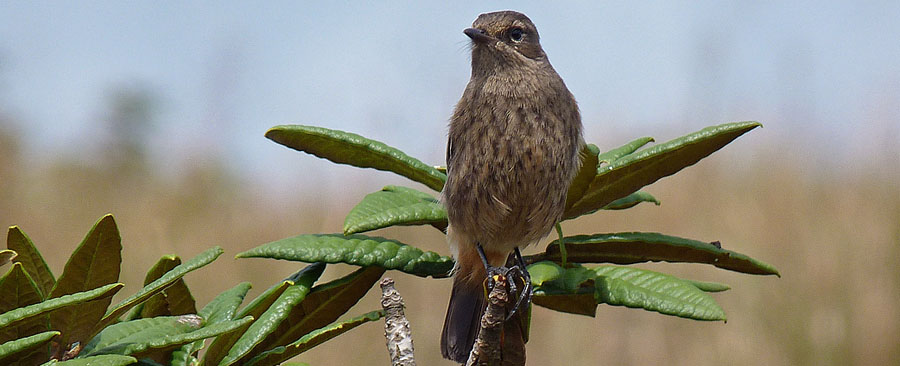 All of the Montane endemics of Sri Lanka are found in Horton Plains. Sri Lanka bush warbler, Dull-Blue flycatcher, Sri Lanka whistling thrush and the yellow-eared bulbul, Sri Lanka Wood Pigeon, Sri Lanka White-eye, Spot-winged Thrush, Dull-blue Flycatcher, Sri Lanka Bush Warbler, Scaly Thrush, Sri Lanka Whistling Thrush, Brown-capped Babbler, Sri Lanka Spur-fowl and Sri Lanka Jungle-fowl. Other highlights are the Himalayan migrants Pied Thrush, Kashmir Flycatcher & Indian Pitta. Black Bird, Mountain Hawk Eagle, Black Eagle, Jerdon's Baza, Pied Bushchat, Hill Swallow and Hill Munia.
Mammals in Horton Plains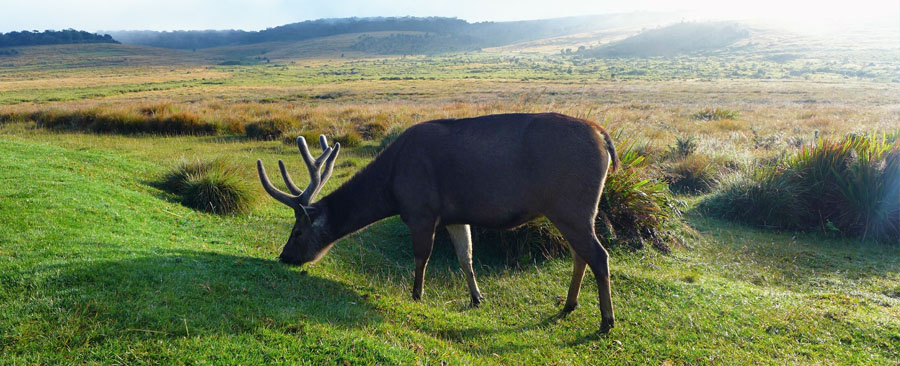 The most frequent site of wildlife at Horton Plains are herds of Sambar Deer. Among the other mammals in the park are Strip-necked Mongoose, Long-tailed Giant Squirrel Wild Boar, the endemic Bear Monkey and Toque Monkey, Fishing cat, Otter and
Barking deers in Horton Plains
Now the Horton Plains has become a happy field of herds of Sambar Deer. However the growth population of Sambar Deer has resulted in the increase of number of Leopards. Wild Boar, the endemic Bear Monkey and Toque Monkey, Slender Loris, Fishing cat, Otter, Barking deer, Strip-necked Mongoose, Long-tailed Giant Squirrel are some of the other mammals found here.

Until a century ago, Horton Plains was rich with Elephants. Then the whole population was hunted down to extinction by the British colonialists in Sri Lanka then called Ceylon. Today Horton Plains is the only national park in Sri Lanka where elephants aren't seen at all.